OUR MATERIALS
A Feel for the Best
At Malek, we pride ourselves on knowing a great thing when we feel it, no matter if it's cotton woven in our own factories or the mattresses we source from Sweden's premier bedmakers. But we don't rely on feel alone. We test, research, and certify every material and product that bears the Malek family name so that we're confident that you'll feel the difference at first touch.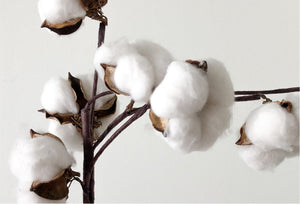 THE COTTON
Egypt's White Gold
Hand-harvested in the misty mornings alongside the River Nile, our Giza Egyptian Cotton is a true wonder of the world. The balanced temperate and fertile soil of the land offers the perfect environment for cotton plants to stay naturally irrigated while basking in the sun. This unique environment is instrumental to the extraordinary length of the Giza fiber.
Why Does Fiber Length Matter?
All of our varieties of Egyptian cotton (Giza 87, 94 and 86) are long or extra-long staple cotton with fiber lengths of at least 32mm long. Fiber length deeply impacts both the softness and durability of the final product.
Individual cotton fibers are joined together to create a thread. The connection points are often slightly raised, creating a rougher feel when there are enough of them dispersed throughout the fabric. It's also where threads tend to break apart and twist, forming the pills that make your sheets feel dingy even when you just purchased them! However, when you start from longer individual fibers, the sheet will feel smoother to the touch and look fresh for many years to come.
The Down & Feathers
As Close to a Cloud as Possible
Ethically-sourced from white ducks living in the coldest parts of Germany and Italy, the down and feathers in our pillows and comforters strikes the perfect balance of warmth and can't-resist-it fluff. The feather's naturally Hygroscopic qualities means that it keeps the heat and humidity balanced, making your bed a true oasis.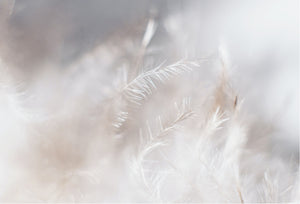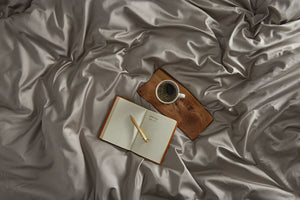 Belgian Flax Linen
The Perfect Fabric For Finishing A Mattress
Our mattress is encased in Belgian flax linen for a naturally refined look. We take the longest and finest fibers from the linseed plant and weave them to create a fabric that always feels cool and fresh due to its inherent moisture-wicking capabilities.